Dried Protein & Stability Blocking
Gold standard
Surmodics immunoassay reagents preserve the conformation and activity of dried proteins coated on a wide range of surfaces, keeping antibodies and antigens at peak performance for long durations. At the same time, the blocking mechanisms in these reagents reduce non-specific binding of interfering proteins to maximize assay sensitivity.
Our immunoassay stabilizers are the gold standard for stability and blocking efficacy. They provide improved assay performance in a one-step process for streamlined manufacturing.
Product Brochure >
Shop All Products
Signal-to-noise ratios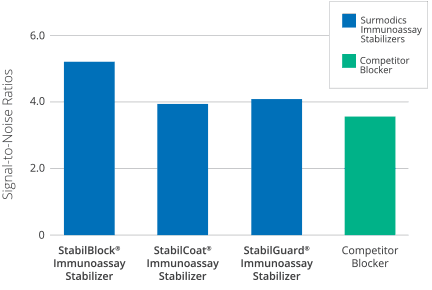 StabilZyme® HRP, StabilZyme® Protein-Free and StabilZyme® NOBLE stabilizers provide the assay developer a complete set of tools to stabilize different HRP conjugates for long term, in-solution stability.
Shop Now
graph details
Boosting sensitivity. Surmodics Immunoassay Stabilizers provide a choice of blocking mechanisms to achieve optimal signal-to-noise ratios for each assay.
Low standards were run on a commercial PAPP-A sandwich assay using plates coated with StabilBlock®, StabilCoat®, StabilGuard® Immunoassay stabilizers and a competitive commercial blocker. The signal-to-noise ratios were quantified.
Surmodics Immunoassay Stabilizers demonstrated at least 85% retained activity for greater than two years with accelerated stability projections
Shop Now
graph details
Prolonging shelf life. Accelerated stability projections demonstrate at least 85% retained activity for greater than 2 years using Surmodics Immunoassay Stabilizers.
The accelerated stability tests used a rabbit polyclonal IgG ELISA assay to assess each stabilizer. 77 days of accelerated stability testing is equivalent to 2+ years of real-time stability.
DRIED PROTEIN STABILITY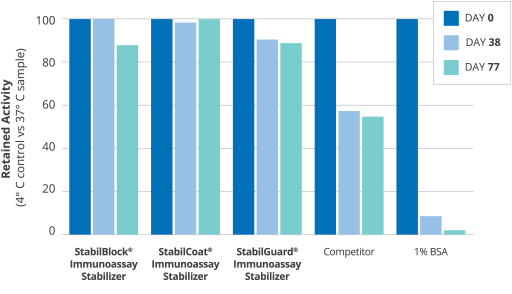 Non-specific binding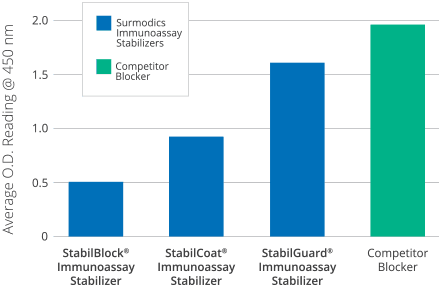 StabilBlock® Immunoassay Stabilizer gives assay developers the best possible tool to lower non-specific binding and maximize the signal-to-noise ratios of assays.
Shop Now
graph details
Lowering non-specific binding. StabilBlock® minimizes non-specific binding from the sample matrix and downstream assay components to enable lower detection limits.
A serum assay was constructed to demonstrate lower non-specific binding from the sample matrix. Mouse IgG was passively absorbed onto a plate and blocked. Human serum was incubated, washed and detected using an anti-human IgG (HRP) conjugate. Passive absorption of serum on the plate was quantified.

Longer stability
Extended shelf life of dried proteins on various surfaces, including polystyrene plates, latex beads, magnetics particles and nitrocellulose membranes

Increased sensitivity
Increased signal-to-noise ratios across the assay range
Multiple formulations to optimize lower detection limitsELISA/EIA, ELISpot, RIA, immunoblots and microarrays applications

Negligible backgrounds
Elimination of non-specific binding from the sample matrix and other assay components

Ease of manufacture
One-step blocking and stabilization process for shorter cycle times
ISO 13485/9001 facility for lot-to-lot consistency